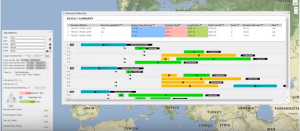 Synchro-NET – the EU funded project involving as partners DHL Supply Chain Spain (project coordinator), Bureau Veritas, Circle, Cork Institute of Technology, Cosco Shipping Line, CRAIN, Cross-border Research Association, EMC2, Fraunhofer, HydrOcean, Kongsberg Maritime AS, Kuehne+Nagel, LE Europe, MJC2, Politecnico di Torino, Rail Safety and Standards Board Limited (RSSB), SAM Electronics, Software AG and SYCO – invited professionals and operators of transport and logistics field to join the first "Synchro-NET Webinar" on Thursday 28th September.
This Webinar aimed to show the potentialities of one of these: the Simulator developed by Politecnico di Torino.
The Simulator is an applicative software module able to create reliable plans for freight transportation from an origin to one or many destinations, considering different constraints and enabling the final users to monitor different KPIs, such as distance, time, and emissions. The system has an intuitive and interactive map-based user interface.
The Simulator provides the final user with a set of possible routes, allowing to sort the set of provided transport solutions according to different KPIs, related to length, duration, emissions, costs intermediate stops and risk.
Download the Politecnico di Torino presentation: Overall Synchro-NET structure
Watch the video of the webinar on the Synchro-NET Simulator!
Source: Synchronet